Banners -Flags -Base Pole Flag Systems
PR Graphics has the resources to create your banners, flags and base pole flags exactly the way you require. Just contact any of our staff and see what we can do for you!
Need a quote? Fill out our no obligation quote request form at the bottom of this page and we'll be straight back to you with some ideas and prices!
Banners -Prices have dropped!

We can print up to 2.5 meters wide by practically any length and we have superb reproduction of high resolution images. Our banners are supplied with ropes and eyelets.
Pull up banners
Pull up vinyl signs and flags are our specialty and we can manufacture a bright and clear eye catching design to your specifications. Call for great pricing on our Premium pull up banners -you can order as few as 5 custom made banners.
Pull Up Banners are the perfect solution for fast, high impact displays in a variety of setting including, trade shows, window displays, advertising, retail signage, corporate displays and more. They are a lightweight; versatile and cost effective display solution that can be easily assembled in minutes.

The Economy Pull Up Banner keeps things simple it matches the other banners on the market in terms of ease and effectiveness of use, but beats them on price. Features are kept to a functional minimum and construction is simplified as much as possible without impacting on performance. All this enables us to give you the best price possible.
Pull ups are often used at trade shows, exhibitions and for temporary marketing, but they're also great for retail use! Combined with a quality graphic they have real impact as a versatile element of a shop window display or can be used in store with the same effect as a huge poster display with the added bonus that they are freestanding and easily moved exactly where you need them.
PR Graphic's economy pull ups have an unobtrusive and modern design that boasts a huge advertising area that's difficult to achieve with regular poster holders and come at a very competitive prices.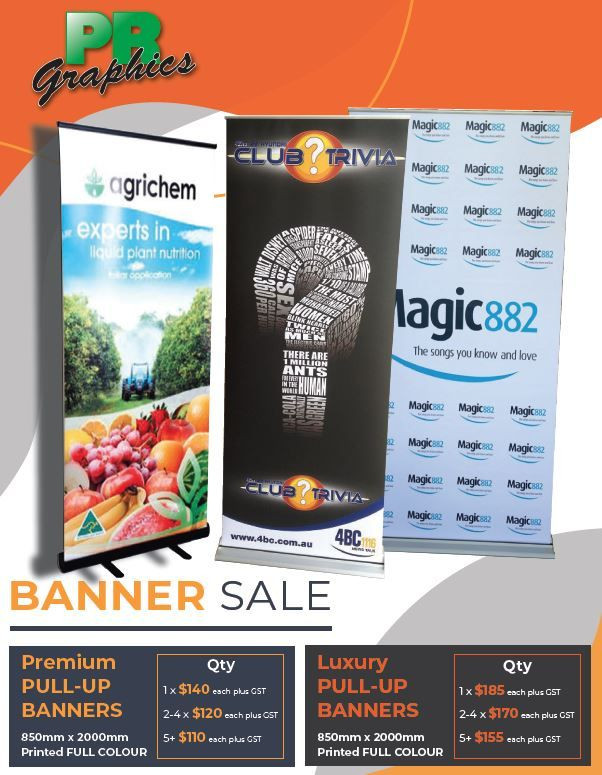 The Deluxe Pull Up Banner is a high end pull up banner stand.
The stand has a wide base, is made from high grade aluminium and comes with a quality built in roller mechanism.
The banner retracts into base which ensures that your banner is protected during transportation or when not in use.
Quick and easy to erect , Each roll up banner stand comes with full colour PREMIUM graphics and its own soft carry bag for easy transportation.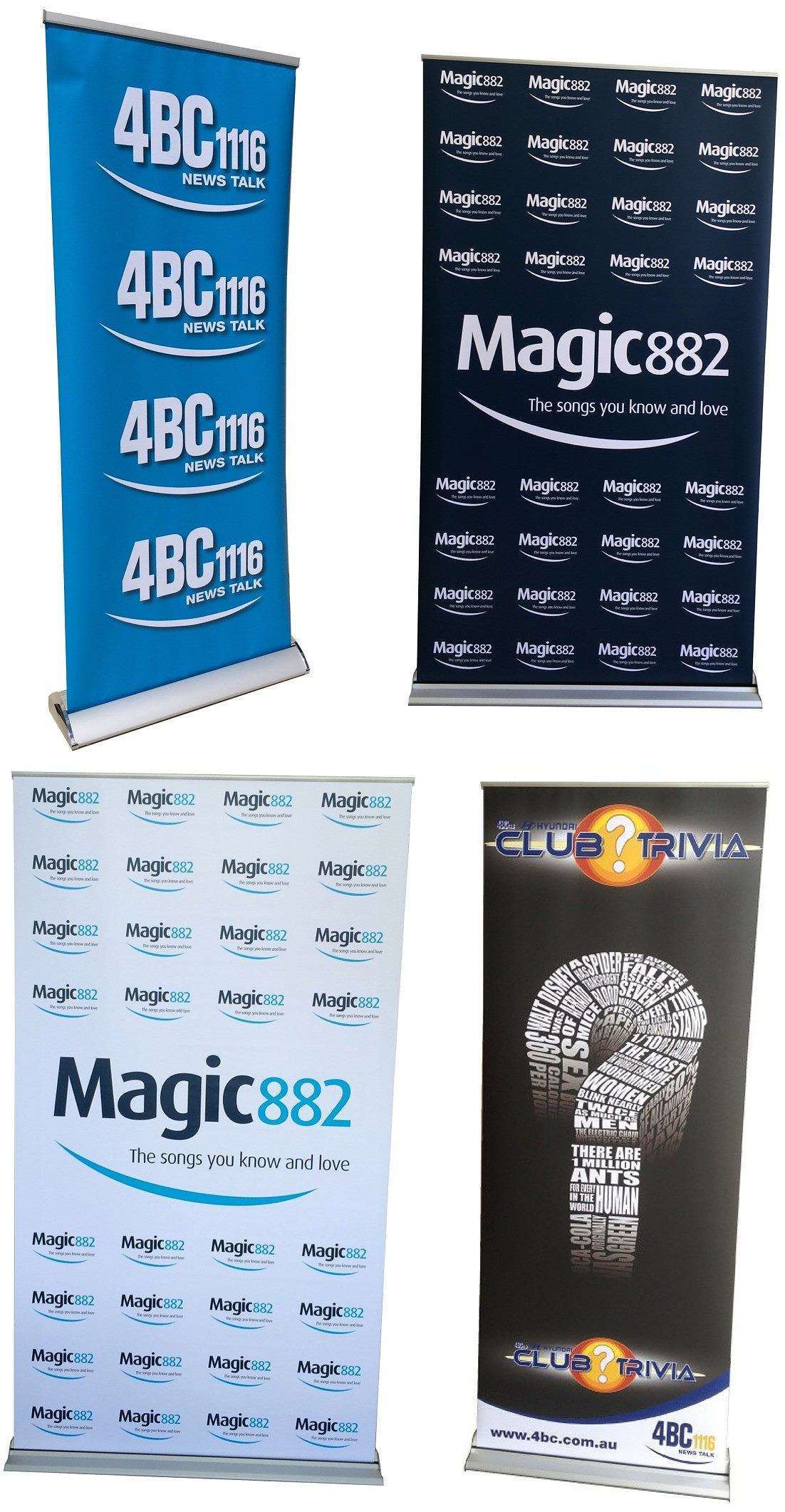 Outdoor Banners

Our quality outdoor banners are printed in fabulous photographic full colour, on heavy duty banner material, and come in a variety of sizes. Custom sizes are available on request. Vinyl banner material is normally used for our custom outdoor banners.
These banners are a great low cost, temporary or permanent signage solution.
We use premium products for the production and construction of all our banners, ensuring you get the best possible product that will perform to your expectations and represent your brand to potential clients.
Great for sporting events or registration banners, school fetes, church banners or any outdoor advertising requirement.
Also great for Birthday, Wedding, Graduation, Baby Showers and Market Stall Banners.
We can design your banner for your special occasion with our Graphic Design service
All edges are welded, and eyelets are included as a standard finish.
Printing time is usually 7-10 working days from approval of artwork .
Flags
These can range from street banners to material or synthetic paper hand wavers

If it's a flag type, we can supply it!
Tell your story with our Base Pole Flags.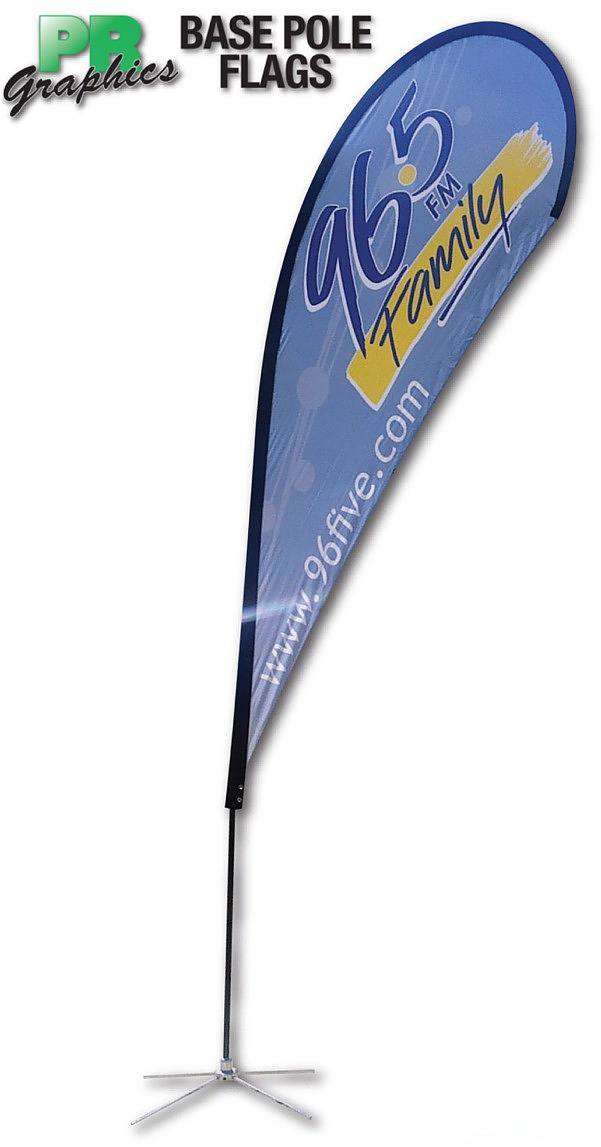 Display your message in the minimum of words and make an impression with our custom design teardrop and feather flags!
To complete the effect of your business event, opt for custom designed flags which will take your corporate affair to the next level!
From advertising your sponsors, to sharing your business message, these base pole flags do it all!
All you need is an attractive design on high quality material, and you are good to go!
Make your event an industry success by ensuring effective promotions and sending out your
business message to everyone by projecting it on our base pole flags.

What We Have To Offer....

What we offer you is the chance to make an impact with a blast, having your flags placed
strategically all around your event venue to attract audiences to your business stall.
The crowd will surely be impressed with the sharp colours, and high picture resolution.

Base Pole Flags are suitable for both indoor and outdoor use.
Custom flag design according to your submitted artwork.
Innovative yet eye catching flags with a personalised design.

Single-sided Teardrop flags
Available in a range of sizes, the Single-sided Teardrop Wind Flags are ideal to attract attention from far.
The Larger sizes are ideal for maximising the impact of your brand. Most commonly seen at car yard sales, local market stalls and sporting events these flags are the perfect way to get your brand noticed.
Our single-sided flags are printed on one side only. However the ink shows through on the other side as a mirrored image (reverse image) with approximately 85-95% bleed through.
All bases are engineered specifically to be free rotating thus allowing the flag to move with the breeze.

Teardrop Flags are most effective when used in multiples at an event, tradeshow or as outdoor signage.

Single –sided Feather flags
Available in a range of sizes, the Single-sided Teardrop Wind Flags are ideal to attract attention from far
Our vibrant feather flags grab the attention of passing foot and vehicle traffic and are the perfect way to promote your business, brand or event. Using state of the art dye sublimation printing
All bases are engineered specifically to be free rotating thus allowing the flag to move with the breeze.

Feather Flags are most effective when used in multiples at an event, tradeshow or as outdoor
Base Pole Flag Systems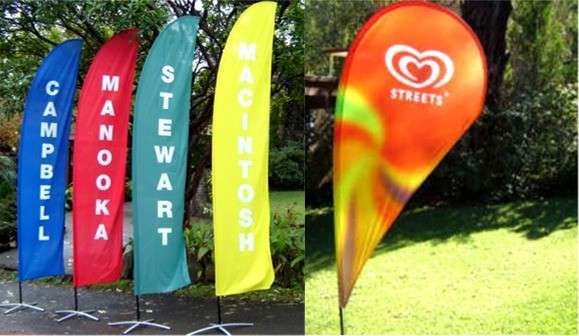 This popular product is a freestanding pole and flag system which doesn't need wind to fly!
Used for creating novel brand awareness, this is an eye-catching tool to draw interest to your products.
Premium Carry Bag Kit
These top quality carry bag kits protect your flags and poles and make storage and transport between venues easy and convenient.